The bracelets which go with each Rolex wristwatch have changed over the years. You've probably noticed that when referring to what other watch brands call a 'strap', Rolex does not actually call their watch 'straps' or 'bands', instead they use bracelets to refer to that part of a timepiece. Throughout the years, Rolex has not only changed their bezels and watch faces but also their bracelets too. When buying a watch, you may focus more on the watch face, however, the strap is just as important. Rolex only offers a small selection of different bracelets, so we've curated this simple guide to all the bracelets Rolex have to offer.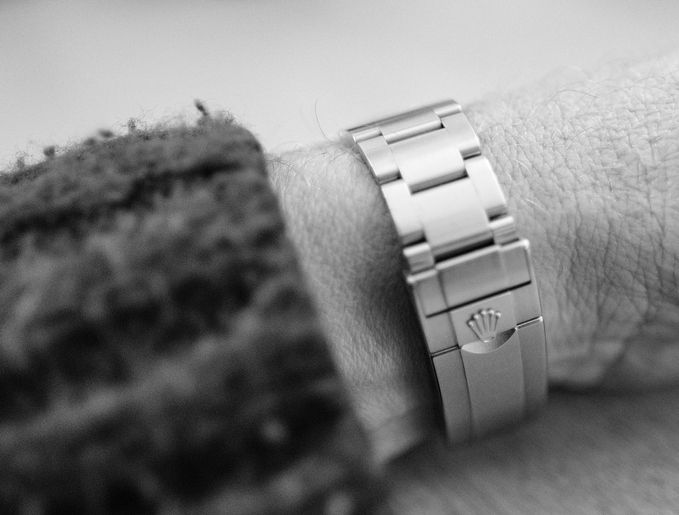 What are the different Rolex bracelets?
Well, there are actually five different bracelets for you to choose from when buying a Rolex wristwatch. 
The Rolex Oyster bracelet
This is the bracelet that Rolex uses on most of their timepieces, it's probably the bracelet you would be most familiar with too. Rolex have been using this bracelet for over seventy years now and was originally made by Gay Frères in the 20th century. By 1998 Rolex had bought Gay Frères which meant that Rolex was now able to create their watch bracelets in house, rather than outsourcing to another company. This changed everything for Rolex as they began innovating the many other bracelet styles which are on this list. 
The Oyster bracelets have a triple link flat look to them, with one larger link which sits in between two smaller links. This bracelet is seen on many of Rolex's iconic watches, including their Submariners, Daytonas and GMT Masters. Rolex now uses glidelock and oysterlock to make sure that the watch fits each buyer's wrist perfectly. 
Instant Quote For Your Rolex Watch
The Rolex Oysterflex bracelet
The Oysterflex is a new addition to the Rolex bracelet collection, as it debuted in 2015 on a Yacht-Master watch. This strap only comes in one colour, black, and is the only elastomer bracelet that Rolex offers. The Oysterflex strap was met with a good response from watch enthusiasts, as Rolex was initially worried about its success because of how different it looks from the other bracelets Rolex offer. 
The Rolex Jubilee bracelet
This bracelet was created to mark Rolex's 40th anniversary and is known to be one of the smarter watch bracelets. It was originally shown on Rolexes Datejust in the colour gold, but since then they've added stainless steel and mixed metal also. Unlike the Oyster bracelet, the Jubilee has five links rather than three, which can make it feel more like a luxury watch. The Jubilee bracelet has not changed massively since its creation, but they have tried different links, like D links and folded links. 
The Rolex President bracelet
The President bracelet is a combination of the Oyster and the Jubilee. Again, it's one of Rolex's dressier bracelets, it's always produced in a high-quality metal never steel. Rolex offers so many colours in this bracelet, from yellow to white to rose gold, even diamond if you're willing to pay to make your wrist look extra luxurious. This bracelet is almost only used on the Oyster Perpetual Day-Date watch because of its history as the watch most commonly worn by American presidents. 
The Rolex Pearlmaster bracelet
The Pearlmaster is the most luxurious of bracelets, as it's offered in a variety of colours with a variety of diamonds too. The Pearlmaster bracelets have five links which are rounded and flat. It was originally launched in 1992 as part of the eponymous watch collection and is now available on both the Datejust and Day-Date. This watch is particularly elegant and is the best strap to choose if you're looking to buy a ladies Rolex watch.   
Can you change a Rolex bracelet?
You can change the bracelet of your Rolex watch, but it will take some tools unless you take it to a professional watch dealer. You will need a spring bar tool (if you don't have this you could always use a pin or paperclip), a non-scratchy cloth and a dish to put the pieces in. 
A new bracelet can completely transform the look of your watch, but it can be tricky to change it. 
Does Rolex sell just the bracelets?
Unfortunately, you can't buy a bracelet on its own from Rolex themselves unless you trade in the old one. However, they will only be able to sell you the original style of bracelet that came with the watch first. 
Saying that, you could always try to take your watch to get a second-hand bracelet from a certified Rolex dealer. This way, they might just sell you the bracelet without having to trade in your timepiece. 
How should a Rolex bracelet fit?
First, it should be noted that Rolex doesn't intend their watches to be worn on the actual wrist themselves. Instead, watches should be worn on the lower part of the forearm as wearing a watch on your wrist can be pretty uncomfortable. So, when you're working out how a Rolex bracelet should fit, make sure you're wearing it in the most comfortable area. 
Rolex recommends that your watch should be loose enough to have some movement on your wrist, but tight enough that it doesn't fall off of your wrist. Wearing your watch too loose can sometimes cause wear of the watch because it will move and bend. Wearing your watch too tight can also cause wear on the watch, as when your wrist expands it will put pressure on the watch and cause the links to weaken. 
Instant Quote For Your Rolex Watch
Which Rolex bracelet should I choose? 
A lot of people ask 'what is the best Rolex bracelet?', this is completely down to personal preference. Most Rolex watches come with the bracelet already selected for you, so this may make your decision easier. When looking at a Rolex watch to buy, definitely consider looking at all the components of the watch, from the face to the bracelet as they're all important elements of a great timepiece.